SPORTS
Line out Ilish Cesarewitch heroes Kiely and Foley | Racing News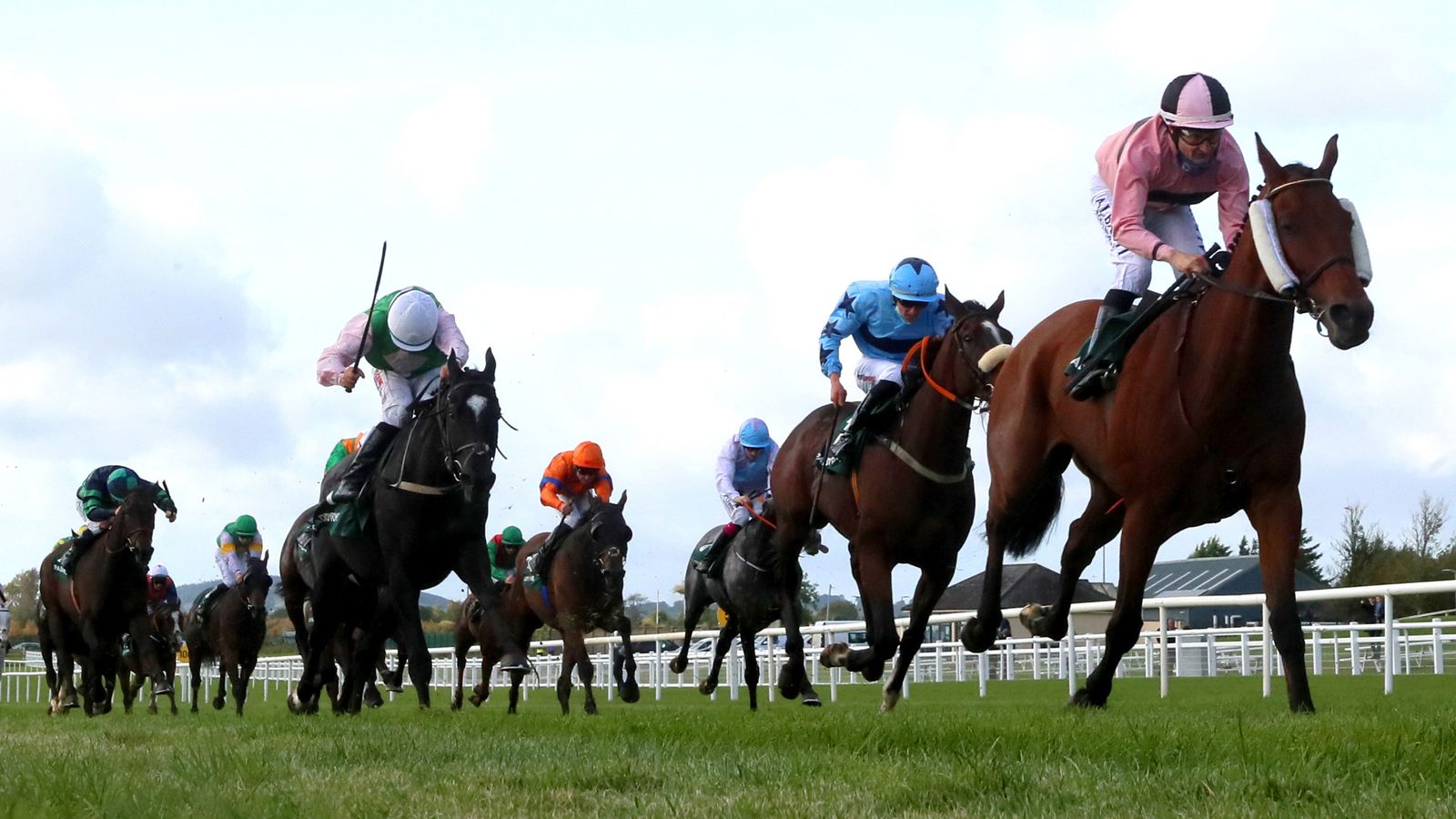 For John Out and Shane Foley, the line-up for the landing of Irish Caesarwich, the powerhouse in the paddy field, stood firm.
Running lightly with just three previous flat starts, the nine-year-old ran successfully for a mile and a half here last month in the face of a female rider's hurdle and felt comfortable stepping back on a two-mile trip.
Placing the pieces of cheek for the first time, he was neatly positioned in the middle of the folly before entering straight ahead and taking positive steps to get to the quarter mile pole from Danvegan.
The 18-1 chance stuck well to his gun, who had a half-time left on the line of the Turnpike trip, who ran with great achievement to finish even after closing a long way from home. Maj. Runner was in third place, and Royal Illusion was three and a half taller.
Kylie said: "He wasn't the bravest of the jumpers and he was always in that little class, so I watched for it and prayed that we would enter.
"I was afraid we were a bit less of an obstacle, but it came to an end and it was exactly what we expected.
"I've been running for it since last year. It's great when it happens when you've been thinking about it for a while.
"I have now joined the three winners of this race. I won it in my father's name in 1969 and we won it with Clara Allen in 2005. In 1953 we had our first runner-up, who was in fifth place.
"The race has been very good to me."
The 84-year-old trainer added: "I'd rather ride him (at home), I won't ride anymore, but I broke him. I have 10 minutes of training, if you have 10 good ones they will do it!"
Limit de Gracio has recorded a surprising success on the listed Staffordstown stud steaks.
Seeing his third start and most recent Irish Champions weekend loss after joining Paddy Tomei, Eljam Philly was sent 15-8 favorites under Billy Lee – but it proved to be far from easy to connect and easy for those who supported him.
Lee had a lot of horses under him with three horses, but each found a gap that he wanted to close to him quickly.
The game seemed to be over, even in the final furlong – only Lee found the light of day until the last moment when he switched to the last breath challenge – his partner responded with a smart turn on the leg to even win the cossy in the end, length and one from the tranquil lady Quarter.
Tomei said: "I was worried when they came in and it seemed like he was going to get as much as he could.
"I was confident that if he could get some light we would go any further and he exceeded my expectations.
"His owner (Martin Schwartz) wanted to go to France for Group One and the Breeders Cup, but I was able to talk to him.
"We won it last year and I wanted to come here. I think it's (Irish 1,000) a perfect move for the Guineans.
"She came to me, her first daughter won and finished second in the Ingabelle Stakes with trouble running.
"I thought the extra furlong would be useful to him today and the slow ground wouldn't make him feel uncomfortable. The plan would be to go for the guineas."
He added: "The owner will prefer too much for the Breeders' Cup, but the coach is trying to apply the brakes."
Tartan has justified the confidence of the skirt market as she has been a very smooth winner of the Irish EBF Median Cyrus Series Maiden.
Out of seven farlongs for the fourth time, Michael O'Claugh-trained Mehmas Philly had no difficulty returning to Ferlong, with Leigh Roche always traveling well before telling him to put the runner to bed, which he did in two lengths from privacy. Magical.
O'Callaghan said of his 8-13 win: "He's a beautiful Philly, he ran a beautiful competition at Punchstown for the first time and has improved a lot since then.
"He's a gentleman who has been growing and maturing quite well over the last six weeks and I would say he'll be even better next spring. We can get him away now.
"He has enough speed, but I can see that he can get seven for a guinea trial at the next destination. He has obviously managed that field today, but he would prefer a better field.
"She has some classes, she's by a good stallion, and I think she'll keep improving. I'm happy with her."