WORLD
How land management can bring back hope to rural Kenyan women – a global problem
By Stella Paul (

Hyderabad, India

)
Inter Press Service
HYDERABAD, India, Oct 14 (IPS) – Jennifer Kamba, 33, has always loved farming – she was given a love by her late husband after 14 years of marriage. The young farming couple farmed logs, peppers and vegetables on their two-acre farm in Kiwandini, Machacos County, Kenya. Kamba did not stop farming even after her husband died five years ago. However, in the end, the soil looks dry, and its production is significantly reduced.
"The land wasn't what it used to be," she says. "Even a few years ago, my vegetables were beautiful. The pumpkins were big, juicy and my husband would occasionally sell something at the local market. But now, they're small in size and crooked. It looks like something." Life has sucked from my land. "
Unable to feed himself and his two school-going children from his farm earnings, Kamba now takes up seasonal jobs such as cooking at the homes of his wealthy neighbors.
Farmers around the world today face a challenge associated with the growing degradation-climate change caused by the ailing conditions of the Kambar land-droughts and extreme rainfall.
According to the United Nations Convention to Combat Desertification (UNCCD), more than 2 billion hectares of land worldwide are currently affected by degradation. In Africa, where 0% of the population depends on agriculture for their livelihood, 22 million hectares are degraded. This directly affects yields, pushing farmers, especially those with small plots of land like Kambar, into poverty.
Machacos, 5 km east of the country's capital Nairobi, has been identified by the National Drought Management Authority (NDMA) as the most drought-prone county. In the last ten years, the county has seen at least four severe droughts that have caused significant damage to soil health.
"We take this very seriously," said Dr. Ruth Kattumuri, senior director of economic, youth and sustainable development at the Commonwealth Secretariat. "Land degradation is a two-pronged challenge because it is both due to and contributing to climate change. It is important for us to support our member countries in sustainable land management efforts. "
While climate change is exacerbating droughts and erratic rainfall, leading to desertification and soil erosion, Kattumuri added that deforestation and unstable farming practices are simultaneously increasing emissions.
"The rural population, small farmers and the poor are adversely affected," he said. According to a 2016 study by the Kenya Livestock and Research Institute, 22% of Kenya's land was eroded between 1982 and 2006, including 31% of arable land. The Kenyan government has taken various steps to combat land degradation and promote sustainable land management.
In September 2011, the government announced that it would reclaim 5.1 million hectares of degraded land. According to an estimate by the World Resource Institute, 65 million acres across the country were restable for future use. In its National Assessed Contribution (NDC), first submitted in 2015, the government is committed to creating tree cover for at least 10% of its total land to mitigate climate change. Together, these measures hope to improve livelihoods, prevent climate change, protect biodiversity and much more.
But the problem, some say, is that the implementation of these measures has been sporadic, and very seriously affected people, especially women, are rarely aware of them.
The story of Ruth Mutinda, a 1-year-old sister, and her sister Beth, 37, in the village of Mawala, Machacos, is an example: the sisters who jointly own a small farm have seen a massive decline in their yogurt, bean, and pigeon pea production. The last six to seven years.
The village is near Kitui – another county affected by successive droughts, including one this year. According to the NDMA, the prevailing drought situation is mainly responsible for the delayed onset of long rains from March to May.
The Mutinda sisters say insufficient rains have increased the heat, which, in turn, has 'stolen moisture' from the farm. In addition, their village river water levels have also dropped due to drought and random sand extraction activities, leaving their lands without alternative sources of water.
"We have a small river at the edge of the village. Earlier, we brought water from there for our farm. But now we can only bring a few buckets for washing and cooking. So, if there is no water, how can the land be good again? Beth asks.
Although the NDMA has mentioned various measures to help drought-affected farmers across the country, including Machakos and Kitui, the sister couple seems unaware of these. They have not heard of any land reclamation initiative and think that regular irrigation is the only way to increase soil fertility.
The only external support for Beth and Ruth is a fruit tree sapling from the Rural Resource Center – a local NGO. But the dry soil of the farm could not sustain their growth.
Leonida Odongo, executive director of the Nairobi-based NGO Hockey Naviri Africa, said the policy and its intended beneficiaries are clearly "disconnected" in land reclamation and climate action. His organization fights for the rights of marginalized peoples for climate justice and food justice.
She says climate change solutions often fail to imagine how women in the front row are affected in many ways.
"The climate crisis in Africa means women are traveling long distances in search of water; This means gender-based violence in the family; This means conflict as groups fight over pasture and water; This means the emergence of internally displaced persons (IDP) camps. This means the death and forced relocation of people and animals. It's time to dump her and move on, "said Odongo.
Cecil Ndzebet, president of the African Women's Network for Community Management of Forests (REFACOF) in Cameroon, believes women do not enjoy the benefits of climate action, including sustainable land management, because they do not have access to money. This is especially applicable to NGOs and community-based organizations who directly know women's climate challenges and can bridge the gap between policy and community but cannot provide solutions due to the difficult struggle for access to money.
"I have heard a lot about the Green Climate Fund (GCF) and others that funds are available. But is that funding available for civil society? I doubt it. All recognition processes are complex; We think we need political will for all those who want to say or play a role in civil society. We need that political will of our government to accept that we should be part of the solution, "Ndzabet said.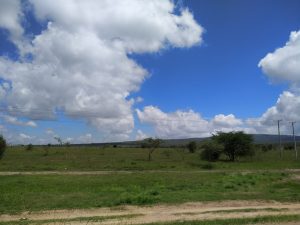 The Commonwealth Living Lands Charter can help address these concerns. The Charter is a proposed initiative of the Commonwealth, aimed at integrating sustainable land use management in its national climate action plans, focusing on nature-based solutions.
Under the proposed Commonwealth Call to Action on Living Lands, the Commonwealth Secretariat will help member countries access funds to enhance nature-based solutions to implement their NDCs that address land degradation.
"We are conducting consultations with our member countries and regions. The aim is to bridge the gap between the principles of climate change, nature and land degradation. Unnikrishnan Nair, head of climate change at the Commonwealth Secretariat, said: "We want to make sure that what we finally propose to our heads of government can be the basis for inclusive, sustainable land management. "This includes women, rural communities and other vulnerable groups – we should not leave anyone behind."
The Living Lands Charter, if adopted by Commonwealth leaders, will work together with the goals of the three Rio Conventions to work towards climate-resilient and sustainable land management among 54 member countries – the post-2020 Global Biodiversity Framework (UNCB). The Neutrality Goals (UNCCD), and the Paris Agreement (UNFCCC).
Areas to be explored include climate-resilient agriculture, soil and water conservation and management, sustainable green cover and biodiversity, and active participation of indigenous peoples.
The combined action is expected to make progress in achieving the Sustainable Development Goals, including SDG 15 – Life on Land.
Can this new initiative help women in the climate change frontline community, including Kamba and Mutinda sisters, get the financial and technical support they need?
Time will tell.
At this point, Jennifer Kamba still doesn't give up hope on her land: "I just hope that when my kids grow up, this land will still produce food for them," she said, with a twinkle in her eye dreaming of the future.
Follow @IPSNewsUNB Bureau
Follow the IPS News UN Bureau on Instagram
© Inter Press Service (2021) – All rights reservedOriginal Source: Inter Press Service