SPORTS
Fantasy WR PPR Rings Ranking Week 4: Getting Started, Sit on a Wide Receiver in Fantasy Football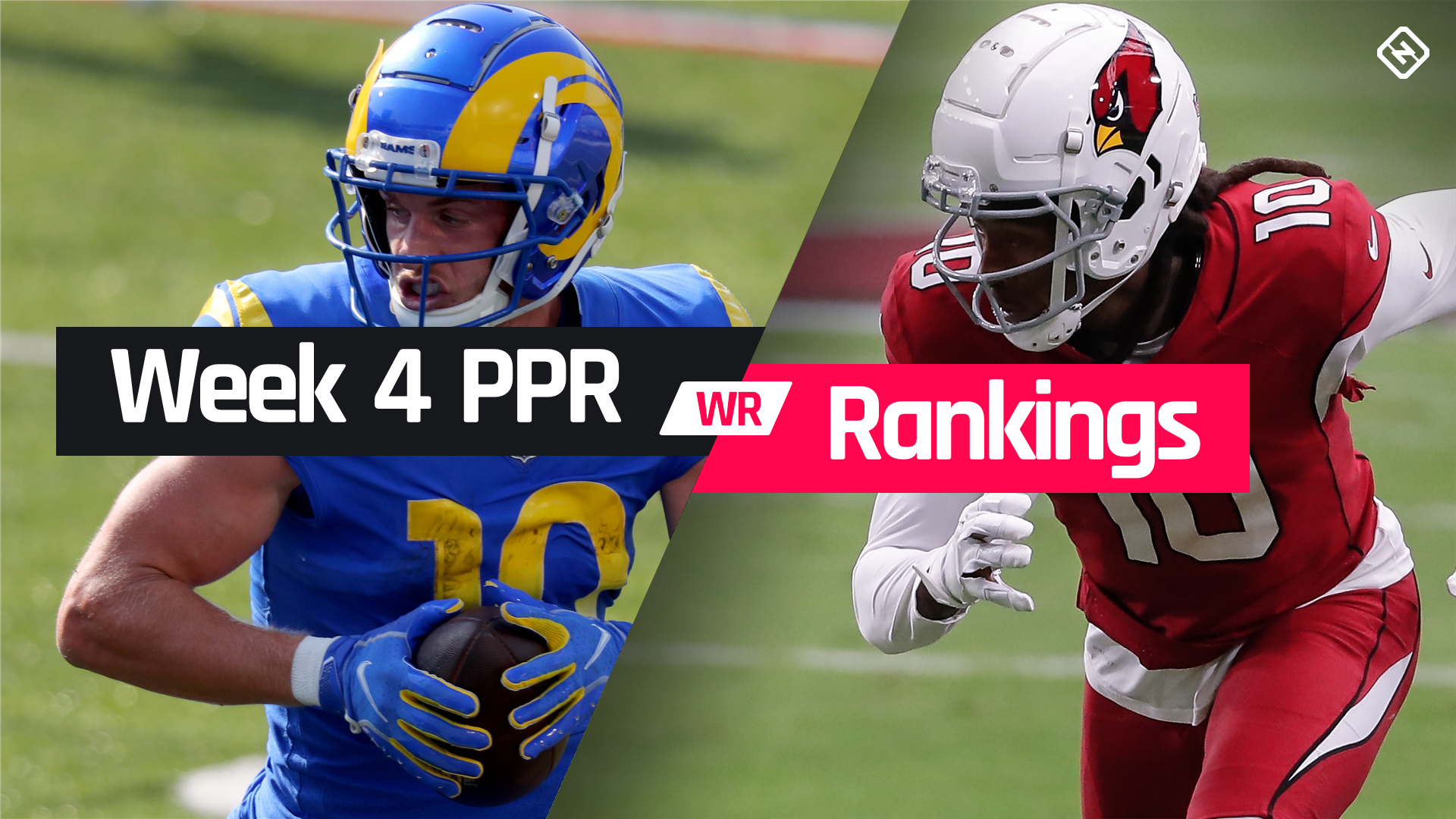 It is not easy to figure out which wide receiver to start and which to sit in which week. We know that every Sunday there will always be wonderful breakouts and busts. The goal of our Week 4 Fantasy WR PPR rankings is to get that tough start, deciding to seat them.
It's always hard to trust players who were disappointed the week before, especially in a good matchup, but you still have to go with Dandre Hopkins against the Rams and Jalen Ramsey. Randall Moore also laid a full egg, but his high passing volume should be seen in that competition. Christian Kirk, who got three good games to start the season, is also playing. If we like Deboe Samuel (vs. Seahawks), Allen Robinson (vs. Lions), and Terry McLaren (@Falcons), if in doubt.
Week 4 PPR Ranking:
Quarterback | Run backwards Tight end | D / ST | Kicker
In PPR in particular, there are a number of players standing this week, with Cole Beasley (vs. Houston), Hunter Rainfro (@ Chargers), and Tyler Boyd (vs. Jaguars) having real potential to eat and break into the lineup as WR3. Robbie Anderson (@ Chargers) has applied some bounce-back flex in a favorable matchup, especially with Christian McCaffrey (hamstring) to score more goals. The Cowboys' defense has deteriorated, and DJ Moore will get coverage from Trevon Diggs, who looked like a stud at the start of his Sophomore campaign. Brandon Ayuk (vs. Sihax) has finally seen some use in Week 3, so he's back in the game against a formidable Sihaks Secondary.
Week 4 Standard Ranking:
Quarterback | Run backwards Wide receiver | Tight end D / ST | Kicker
Several WRs are working on the QB issue, but it will be difficult for Brandon Cooks (@ Bill), all the Steelers sued the Packers (especially Dionette Johnson if he returns), and Jacobie Meyers (vs. Buccaneers) to sit in the PPR league. They are just achieving a lot of goals. The Jaguars trio (@bengal) are similar, though much more risky. Marvin Jones is the only one we feel a little confident about.
Week 4 DFS Lineups: Draftkings | Fanduel | Yahoo!
As mentioned by the Steelers, injury is definitely a problem in this position, there are also several receivers with giants (those saints) who are considered "suspicious". Sterling Shepard (Hamstring) is the best PPR game in the bunch, but depending on who is active there may not be a recommended start here, as Colin Johnson led all the WRs in the 3rd week.UPDATE: Both Shepard and Slaton are out.) Tennessee may be missing AJ Brown (hamstring), which will open the door for his 3 surprises of the week (Chester Rogers, Nick Westbrook-Eichin) in a favorable match against the Jets. (Update: Brown and Julio Jones are both out.) Tyler Lockett (knee), Antonio Brown (Covid), and Will Fuller could also leave holes in the lineup, although it's hard to see any real "PPR sleeper" emerge from that situation unless you count Jaylene Waddle (vs. Colts) who had 12 catches and 13 goals in Week 3.
More Week 4 DFS: Best Stack | Best value | Lineup Builder
We'll update this WR PPR ranking as needed throughout the week, so check back for the latest changes and analysis. For a separate analysis of key WRs, click here.
Week 4 Fantasy: Start, Sit Sleeping | Chest
Fantasy WR PPR Rings Ranking Week 4: Who to Start with a Wide Receiver
Ranking based on Full-point PPR Scoring
| | |
| --- | --- |
| Rank | Players |
| D | Stefon Diggs, BUF vs. HOU |
| 2 | Cooper Coupe, LAR v. ARI |
| 3 | Davante Adams, GB vs. PIT |
| 4 | DJ Moore, CAR @ DAL |
| 5 | Tyrick Hill, KC-PHI |
| 6 | Calvin Ridley, ATL vs. WAS |
| 7 | Terry McLaren, WAS -ATL |
| 8 | DK Metcalf, SEA @ SF |
| 9 | Kenan Allen, LAC vs. LV |
| 10 | Adam Thilen, MIN vs. CLE |
| 11 | Allen Robinson, CHI vs. The |
| 12 | Debo Samuel, SF vs. SEA |
| 13 | Brandin Cooks, HOU -BUF |
| 14 | Chris Godwin, TB-NE |
| 15 | Tyler Locket, SEA -SF |
| 16 | Ja'Marr Chase, CIN vs. JAX |
| 17 | Dandre Hopkins, ARI-Lawr |
| 18 | Justin Jefferson, MIN vs. CLE |
| 19 | CeeDee Lamb, DAL vs. CAR |
| 20 | Mike Williams, LAC vs. LV |
| 21 | My Cooper, DAL vs. CAR |
| 22 | Mike Evans, TB-NE |
| 23 | Corey Davis, NYZ vs. Ten |
| 24 | Diontae Johnson, PIT 6GB |
| 25 | Courtland Sutton, Dan v. Prom |
| 26 | Divanta Smith, PHI vs. Casey |
| 27 | Marquis Brown, Bal-Dan |
| 28 | Kenny Gollade, NYG @ no |
| 29 | Odell Beckham Jr., CLE @ MIN |
| 30 | Robert Woods, LAR vs. ARI |
| 31 | Antonio Brown, TB-NE |
| 32 | Cole Beasley, BUF vs. HOU |
| 33 | Marvin Jones, JAX -CIN |
| 34 | Tyler Boyd, CIN vs. JAX |
| 35 | Juju Smith-Schuster, PIT 8GB |
| 36 | Jacoby Meyers, NE vs. TB |
| 37 | Tim Patrick, DEN vs. Ball |
| 38 | Emanuel Sanders, BUF vs. HOU |
| 39 | Christian Kirk, ARI-Lawr |
| 40 | Laviska Shenault Jr., JAX @ CIN |
| 41 | Rondale Moore, ARI @ LAR |
| 42 | Hunter Rainfro, LV-LAC |
| 43 | Curtis Samuel, WFT -ATL |
| 44 | Brandon Ayuk, SF vs. SEA |
| 45 | Nick Westbrook-Eichin, TEN @ NYJ |
| 46 | DJ Chark, Jaguars, JAX @ CIN |
| 47 | Henry Rugs III, LV-LAC |
| 48 | Robbie Anderson, CAR -DAL |
| 49 | Darnell Mooney, CHI vs. DET |
| 50 | Jaylen Waddle, MIA vs. IND |
| 51 | Chester Rogers, Ten-NYZ |
| 52 | Michael Pitman Jr., Ind-MIA |
| 53 | Marquez Callaway, NO v. NYG |
| 54 | Jelen Rigger, PHI vs. K.C. |
| 55 | Sammy Watkins, Bal-Dan |
| 56 | Colin Johnson, NYGO no |
| 57 | Quintez Cephus, DET @ CHI |
| 58 | Kendrick Bourne, NE vs. TB |
| 59 | Caderias Tony, NYGO no |
| 60 | Will Fuller V, MIA v. Ind |
| 61 | Nelson Agholor, NE vs. TB |
| 62 | Jack Pascal, Ind-Mia |
| 63 | Quiz Watkins, PHI vs. K.C. |
| 64 | Brian Edwards, LV-LAC |
| 65 | Devant Parker, MIA vs. IND |
| 66 | Anthony Miller, HOU -BUF |
| 67 | Gabriel Davis, BUF vs. Love |
| 68 | KJ Osborne, MIN vs. CLE |
| 69 | Jamison Crowder, NYZ vs. Ten |
| 70 | Khalifa Raymond, DET @ Chi |
| 71 | AJ Green, ARI 7Lar |
| 72 | McColl Hardman, KC-PHI |
| 73 | D Sean Jackson, L2R vs. ARI |
| 74 | Braxton Barrios, NYZ vs. Ten |
| 75 | Van Jefferson, LAR v. ARI |
| 76 | Terrace Marshall Jr., CAR @ DAL |
| 77 | Jalen Guyton, LAC vs. LAV |
| 78 | Olamide Zaccheaus, ATL vs. WAS |
| 79 | Deont Harris, no vs. NYG |
| 80 | Marquez Valdes-Scantling, GB vs. PIT |
| 81 | Randall Cobb, GB vs. PIT |
| 82 | Allen Lizard, GB vs. PIT |
| 83 | Demarcus Robinson, KC-PHI |
| 84 | Diami Brown, WAS -ATL |
| 85 | Marquis Goodwin, CHI vs. DET |
| 86 | Byron Pringle, KC-PHI |
| 87 | Anthony Schwartz, CLE-MIN |