SPORTS
Fantasy WR PPR Ranking Week 3: To Get Started, Sit on a Wide Receiver in Fantasy Football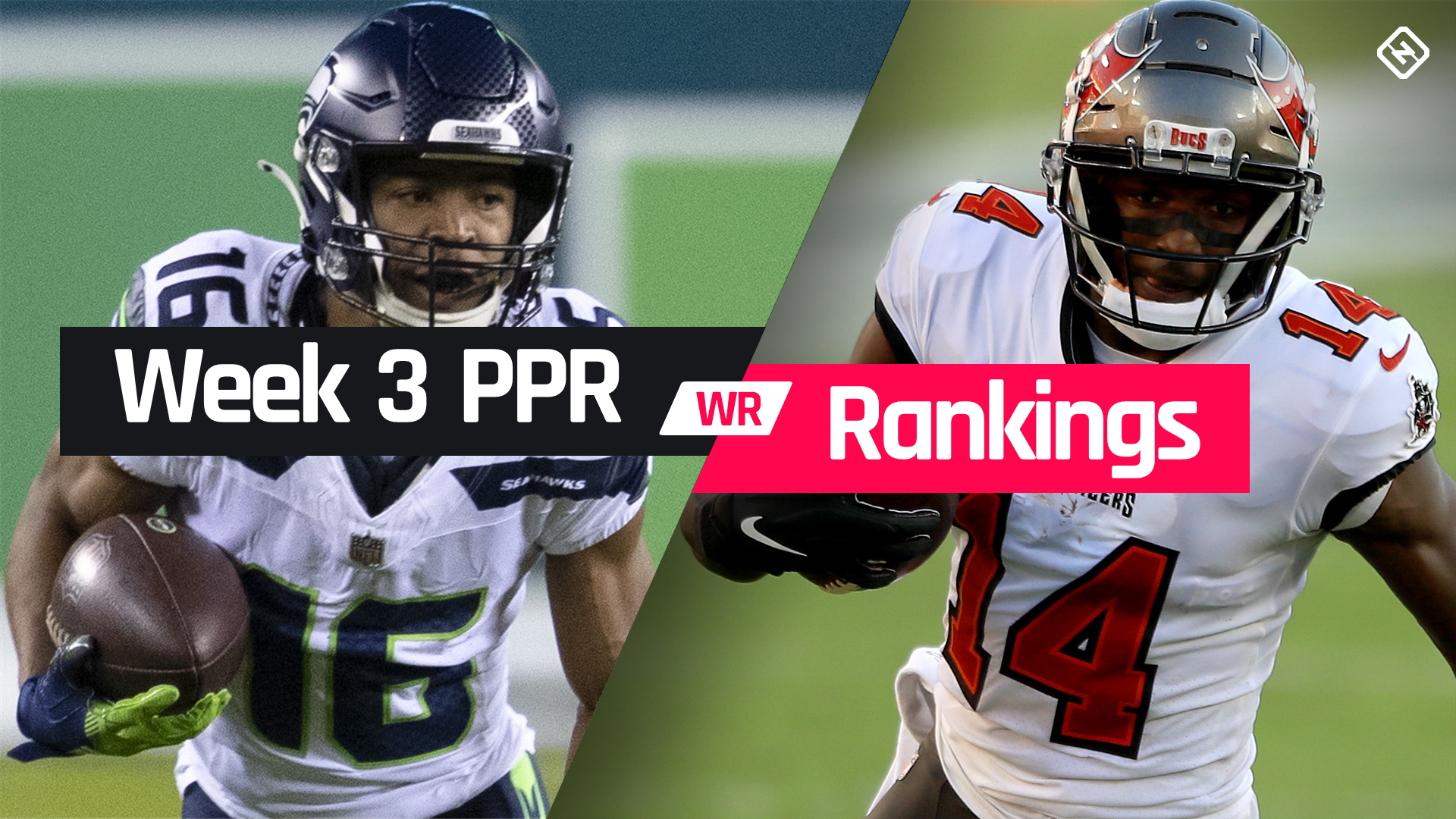 PPR leagues may be a little more predictable than standard leagues, although with wider receivers, touchdowns can still make a huge difference. Our Week 3 Fantasy WR PPR rankings are no different from our standard set, partly because we are still learning which receivers will be consistent targets and which defenses will continue to have problems stopping passes. We still can't be fully committed to relying on previous game stats, especially as many QBs have been hit in the last week, but we at least feel better about how the teams will split, which is probably the most important thing to start with in WR. Time to get out.
As always, there are several receivers who are even brighter in PPR leagues. Juju Smith Schuster and Dionette Johnson had seven and 12 goals, respectively, in the second week and will have the PPR option vs. Bengals. However, Johnson injured his knee in the final game of Week 2, so we have to move it forward. If he's out, James Washington will become an interesting flex option in PPR. Sterling Shepard (vs. Atlanta) has become a big time for Daniel Jones, as he scored 119 goals in the Giants' first two games. Shepard may start to attract the most defensive attention, so Kenny Gollade may be hiding in the weak Falcon's pass defense and create a respectable fantasy performance. Both are playing because of the matchup. Jalen Rigger (ালDallas) and Tim Patrick (vs. Jets) are good PPR dramas to watch. Both have good matchup and they are achieving more goals than expected. Patrick Hot Weaver Wire Ad has once again removed Jerry Judy (ankle) for at least a month.
Week 3 Standard Ranking:
Quarterback | Run backwards Wide receiver | Tight end | D / ST | Kicker
It's hard to say who will be in charge of shutting down Jalen Ramsey for Tampa Bay, but Chris Godwin thinks the PPR is the safest option to play in the league. If Ramsay gives him a shadow, it's hard luck, but we have no way of knowing exactly who will be in charge of him. If there's any week to avoid Mike Evans, it could be. He's already a scary game in the PPR, and just the threat of defense by Ramsay makes him a busty candidate. Of course, both Michael Pitman and Jack Pascal had a good game against Rams last week, so anything is possible. The receiver will both play against Tennessee this week, but if Jacob Eason starts, it will do serious damage to their outlook.
Week 3 PPR Ranking:
Quarterback | Run backwards Tight end | D / ST | Kicker
The Bengali WRs have a long way to go in Pittsburgh and it looks like the talented trio of Cincinnati will play the musical chair every week who will be the top option. As the first dog it was Jamar Chase in the first week, but both T Higgins and Tyler Boyd caught him and output in the second week in terms of yards, but Chase entered the final zone. At least one of them will be productive, but we can't say who will be at this point. Whatever it is, Boyd moves to PPR, but it may have a minimum ceiling.
The Dolphins have two good cornerbacks, so Brian Edwards and Henry Rugs III look like boys who should be benched, despite some glimpses they may be on the verge of rising to fantasy football. Hunter Rainfro probably has the highest PPR floor for riders, though he's just a border flex. Julio Jones (vs. Colts) is not the hottest name in the PPR league, and although the Colts defense looked deadly, they played two great offenses and stopped DK Metcalfe at the end of the game in Week 1 and Robert Woods in the 2nd week. The same is true of Odell Beckham Jr., if he plays, though he will get a push if Jarvis Landry (knee) is out against the Bears.
Randall Moore and Christian Kirk (@Jaguars) both get matchup bumps, but the same is true for receivers on the other end of the game (DJ Charak, Marvin Jones, Laviska Shenault). Chanelt is dealing with a shoulder injury, but walk with him lightly. Jacoby Myers (vs. Saints), Darnell Mooney (@Browns), and KJ Osborne (vs. Seahawks) have found their traditional barriers in the PPR league, all in the flex range.
In the end, we're still looking at matchup and talent, and it will take at least another week to really feel comfortable about matchup and target numbers. Obviously, we can find some obvious risers and falls, but Week 3 is always a speculative game – and QB injuries make things worse. For that reason, our rankings will probably get some face lift before the end of the week.
We'll update this WR PPR ranking as needed throughout the week, so check back for the latest changes and analysis.
Fantasy WR PPR Ranking Week :: Who to start with Wide Receiver
Based on ranking Full-point PPR Scoring format
| | |
| --- | --- |
| Rank | Players |
| D | Dandre Hopkins, ARI-Jax |
| 2 | Tyrick Hill, Casey v. LAC |
| 3 | Davante Adams, GB @ SF |
| 4 | Stefon Diggs, BUF vs. WAS |
| 5 | Tyler Locket, SEA-MIN |
| 6 | Kenan Allen, LAC-KC |
| 7 | Calvin Ridley, ATL-NYG |
| 8 | Cooper Coupe, LAR vs. TB |
| 9 | DK Metcalfe, SEA @ MIN |
| 10 | CeeDee Lamb, DAL vs. PHI |
| 11 | Justin Jefferson, MIN vs. SEA |
| 12 | Allen Robinson, CHI -CLE |
| 13 | Adam Thilen, MIN vs. SEA |
| 14 | Chris Godwin, TB-LAR |
| 15 | Courtland Sutton, Dan v. NYJ |
| 16 | DJ Moore, CAR @ HOU |
| 17 | Brandin Cooks, HOU vs. CAR |
| 18 | Terry McLaren, WAS -BUF |
| 19 | My Cooper, DAL vs. PHI |
| 20 | Marquis Brown, BAL -DET |
| 21 | AJ Brown, TEN vs. IND |
| 22 | Debo Samuel, SF vs. GB |
| 23 | Diontae Johnson, PIT vs. CIN |
| 24 | Antonio Brown, TB-LAR |
| 25 | Devanta Smith, PHI-Dal |
| 26 | Sterling Shepard, NYG vs. ATL |
| 27 | Mike Evans, TB-LAAR |
| 28 | Julio Jones, TEN vs. IND |
| 29 | Jamar Chase, CIN vs. PIT |
| 30 | Randall Moore, ARI-Jax |
| 31 | T Higgins, CIN-PIT |
| 32 | Juju Smith-Schuster, PIT vs. CIN |
| 33 | Chase Claypool, PIT vs. CIN |
| 34 | Robbie Anderson, CAR -HOU |
| 35 | DJ Chark, Jaguars, JAX vs. ARI |
| 36 | Mike Williams, LAC-Casey |
| 37 | Michael Pitman Jr., IND -TEN |
| 38 | Marvin Jones, JAX vs. ARI |
| 39 | Robert Woods, LAR vs. TB |
| 40 | Odell Beckham Jr., CLE vs. CHI |
| 41 | Tyler Boyd, CIN-PIT |
| 42 | Christian Kirk, ARI-Jax |
| 43 | Kenny Gollade, NYG vs. ATL |
| 44 | Corey Davis, NYJ-Dan |
| 45 | Jacoby Meyers, NE vs. not |
| 46 | Darnell Mooney, CHI -CLE |
| 47 | Laviska Shenault Jr., JAX vs. ARI |
| 48 | Jack Pascal, IND -TEN |
| 49 | Tim Patrick, DEN vs. NYZ |
| 50 | Zeilen Waddle, MIA-LV |
| 51 | Sammy Watkins, BAL -DET |
| 52 | Cole Beasley, BUF vs. WAS |
| 53 | Will Fuller V, MIA-LV |
| 54 | Jelen Rigger, PHI-Dal |
| 55 | Nelson Agholar, NE vs. No. |
| 56 | Devant Parker, MIA-LV |
| 57 | KJ Osborne, MIN vs. SEA |
| 58 | Darius Slaton, NYG vs. ATL |
| 59 | AJ Green, ARI-Jax |
| 60 | Russell Gage, ATL-NYG |
| 61 | Quiz Watkins, PHI -Dul |
| 62 | Hunter Rainfro, LV vs. MIA |
| 63 | Quintage Cephas, DET v. Campfire |
| 64 | Marquez Valdes-Scantling, GB8SF |
| 65 | Henry Rugs III, LV vs. MIA |
| 66 | Brandon Ayuk, SF vs. GB |
| 67 | Marquez Callaway, NO -NE |
| 68 | Emanuel Sanders, BUF vs. WAS |
| 69 | Jamison Crowder, NYJ-Dan |
| 70 | Brian Edwards, LV vs. MIA |
| 71 | McColl Hardman, Casey v. LAC |
| 72 | Tyrell Williams, DET v. Ball |
| 73 | KJ Hamler, Dan v. NYJ |
| 74 | Randall Cobb, GB @ SF |
| 75 | Deont Harris, NO -NE |
| 76 | Braxton Barrios, NYJ-Dan |
| 77 | Allen Lizard, GB8SF |
| 78 | Anthony Schwartz, CLE vs. CHI |
| 79 | Gabriel Davis, BUF vs. WAS |
| 80 | Van Jefferson, LAR vs. TB |
| 81 | Terrace Marshall Jr., CAR @ HOU |
| 82 | Marquis Goodwin, CHI -CLE |
| 83 | Demarcus Robinson, Casey v. LAC |
| 84 | Jalen Gaiton, LAC-KC |
| 85 | Diami Brown, WAS -BUF |
| 86 | Byron Pringle, Casey v. LAC |
| 87 | D Sean Jackson, L2R vs. TB |
| 88 | D'Wayne Escridge, SEA @ MIN |
| 89 | Caderias Tony, NYG vs. ATL |