SPORTS
Fantasy TE Rankings Week 3: Who To Start, Fantasy Football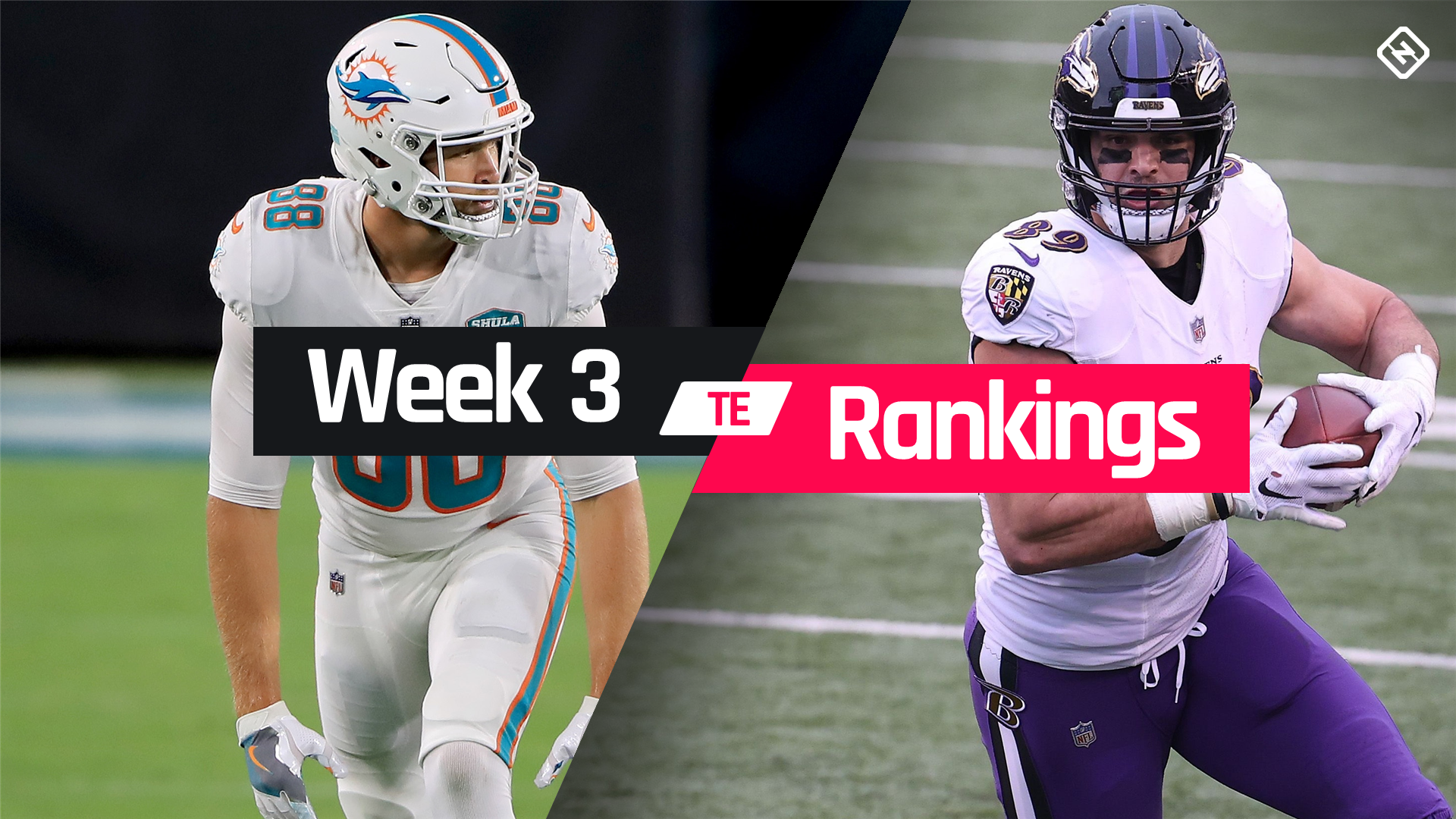 If you're the owner of Travis Kells (vs. Chargers) or Darren Waller (vs. Dolphins), you're probably not reading the rank ranking of Week 3 Fantasy TE, so we've come to break up the guys in line after that. Strictly speaking, we always want to consider a defensive fantasy point against the location and red-zone touchdown allowed, but since it's only week 3, we can only do so much of it. We'll still consider this somewhat, but we'll have to watch the matchup and quarterback play to determine who should start the match and who should sit down, especially since there are virtually no breakouts or slippers (yet) in a year.
Neither TJ Hockenson nor any of the names listed above who have played against Rankings have dropped many fantasy points. This doesn't mean we can project Cole Kemmet as a TE1 against Cleveland because Travis Kells had a field day against the Browns in the past, but we can see similarly ranked tight ends and how they worked in this early part of the regular season. As always, the standard leagues call for tougher edges who do a lot with their reception and are often end-zone targets.
Week 3 PPR Ranking:
Quarterback | Run backwards Wide receiver | Tight end | D / ST | Kicker
Noah Fant (vs. Jets) and Jared Cook (@Chiefs) are in the TE1 range this week, but for a variety of reasons. Fant Teddy is going to be one of Bridgewater's favorite targets and we always want to play Joyce vs. Jets. Cook should be in line for many goals as Chiffra forces teams to move forward and concentrates on carrying a wide receiver. Tyrone Matthew is out for Kansas City, but we can expect him to be in control of Keenan Allen and Mike Williams more than Cook.
Week 3 Standard Ranking:
Quarterback | Run backwards Wide receiver | D / ST | Kicker
Strictly speaking, a high pass volume game is sometimes all we can ask for. Gerald Everett (vs. Vikings) and Evan Engram (if he plays Atlanta) also have some appeal, but they're probably still sitting on the bench unless you're in the deep league. It is worth noting that although George Kettle (vs. Packers) got only eight catches in 95 yards in the first two weeks, it was not time to release him. That said, you're still starting him, but he may not be the elite tight end we've seen in the past this season. Stay tuned.
Among those who went down this week, Jannu Smith and Hunter Henry proved to be ineffective so far in the first week of the regular season, it seems like neither of them will be completely different from each other, so when crime is better with them, they wear each other's ceiling hats. . If you have to make a start, Smith could probably take a slight edge, but either way, given the lack of talent in this position, they are still at least in the conversation to start the spot. Mike Gesiki (@ Riders) is still in the same boat after doing nothing.
Again, to create a huge matchup-based jolt without any obvious breakouts and insufficient critical information, our rankings are quite annoying. After we get one or two more weeks of data, it will be much easier to project the streamers as we pass the bonafide studs, but Juan Johnson (@ Patriots), Jack Doyle (@ Titans), Maxx Williams (@ Jaguars) will be your draft starter (or Backup) No matter how bad it is, it's hard to believe for a variety of reasons.
We'll update this TE ranking as needed throughout the week, so check back for the latest changes and analysis.
Fantasy TE Rankings Week 3: Who Must Start Finally
Ranking based on Standard, non-PPR Scoring
| | |
| --- | --- |
| Rank | Players |
| D | Travis Kells, Casey v. LAC |
| 2 | Darren Waller, LV vs. MIA |
| 3 | TJ Hawkinson, DET v. Ball |
| 4 | Rob Gronkowski, TB-LAR. Grunk is back. That's enough. |
| 5 | George Kettle, SF vs. GB. Kettle at No. 5 thinks wrong, but it's not. He is currently TE12 in the PPR League (8.8 FPPG) and Standard (5.2 FPPG). Unless he has a vintage kettle performance, he can't go on top of Hawkinson or Waller. |
| 6 | Mark Andrews, BAL -DET. Andrews had a perfect bust for two weeks, but a match with Detroit could mean big performances. No. in such a rare position. It's hard to get down to numbers, but we'll have to if he explodes this week. |
| 7 | Kyle Pitts, ATL-NYG. Pitts scored six-five goals for y yard in the second week, a respectable performance outside of a tough result. However, it is clear that he will not join the top elite group, as we wanted in the pre-season. The Giants 'defense is hot and cold, so we'll see what happens here. |
| 8 | Noah Fant, Dan v. NYJ. Fant De Facto No. 2WR behind Corland Sutton in the absence of Jerry GD due to an ankle injury. He scored six goals in the second week, four passes for 33 yards and a touchdown. Again, this sounds like an average stat line, but it's a top-10 game in the tight end position. He faces a Jets defense in Week 3, so we love the Broncos as much as we can in your lineups. |
| 9 | Logan Thomas, WAS -BUF. In his first full game with Taylor Heinick, Thomas drew five catches and seven goals for 45 yards. It was a promising start, but the Buffalo defense is no easy match. He is a good option in the PPR league, but he has the potential for a touchdown, which is certainly good for the standard league. |
| 10 | Dallas Goedert, Ph.D. The offense of the whole agglomerate went one step back in the second week, but they should be back in their fight with Dallas in prime time. Raise expectations for him this week, as he should be the No. 2 option for Jillian Harts behind Divanta Smith. Jack Ertz still carries some appeal in the PPR league, although our hopes are dwindling with him. |
| 11 | Tyler Higby, LAR vs. TB. Higgins had a bust in the second week, as well, catching just one pass for eight yards on a goal. While he's got a lot of publicity this season, those kinds of games are inevitable. It goes for any tight end after the elite elite. In a match with Devin White and Lavont David, he still ranks as TE1. It's hard to support moving him down from who he is currently ahead of. |
| 12 | Jared Cook, LAC-Casey. Cook's five goals were just three catches, but he was brought back with two touchdowns due to a penalty. Justin Herbert often sees his way, so if nothing else he is interesting for that reason. Passing chargers in this game should be heavy, so he is a tough option in any format. |
| 13 | Robert Tanian Jr., GB8SF |
| 14 | Mike Gesiki, MIA-LV. Gesicki caught three passes for 41 yards last week, so while he wasn't a total bust in 1 week, he's still not the sexiest game at the tight end. The good news is that Jacob Briset seems more willing to take notice of him, so if he's getting started, Gesiki will have to see more work. Last year, he did most of his damage while being led by Ryan Fitzpatrick, so it's probably just Tuya holding him back. |
| 15 | Jannu Smith, NE @ NO We still have no clear winner in this position battle, and we will never see the conclusion. It's a low-volume passing attack, so neither Smith nor Hunter Henry can be expected to grow up any week. One of them will flash at some point, but there is almost no way to tell when it will happen, especially at the beginning of the year. |
| 16 | Hunter Henry, NE -NO See Jannu Smith. |
| 17 | Gerald Everett, SEA -MIN Everett was one of our Slippers picks last week, but he had just one catch for three yards to look like a great matchup against Tennessee. He now has three catches in four overs, so it's time to lower expectations. At this point in the rankings, we just expect a touchdown. As Russell Wilson is his quarterback, the potential is clear. |
| 18 | Evan Engram, NYG vs. ATL. Engram has yet to play this season due to a calf injury, but he will have to consider a game against the formidable Falcons defense, who have surrendered three touchdowns so far. Plus Daniel Jones isn't playing all bad. |
| 19 | Jack Doyle, IND -TEN We'll see if Carson Wentz plays, but we know Tennessee's defense is bad. Mo Ali-Cox had some momentum this season, but Doyle thinks the Colts have retained his possession as the starting solid end of the passing attack. |
| 20 | Jack Ertz, PHI-Dal. See Dallas Goedert. |
| 21 | Dalton Schultz, DAL v. PHI |
| 22 | Albert Okuegbunam, Dan v. NYZ |
| 23 | Cole Comet, CHI -CLE |
| 24 | Maxx Williams, ARI-JAX |
| 25 | Eric Ibron, PIT v. CIN |
| 26 | Austin Hooper, CLE vs. CHI |
| 27 | Pat Freymouth, PIT vs. CIN |
| 28 | Tyler Croft, NYJ-Dan |
| 29 | Juan Johnson, NO -NE |
| 30 | Dawson Knox, BUF vs. WAS |
| 31 | Blake Jarwin, DAL vs. PHI |
| 32 | Anthony Firkers, Ten vs. Ind |
| 33 | Tyler Conklin, MIN vs. SEA |
| 34 | Jimmy Graham, CHI -CLE |
| 35 | Pharaoh Brown, HOU vs. CAR |
| 36 | Adam Trottman, NO -NE |
| 37 | Dan Arnold, CAR -HOU |
| 38 | CJ Uzoma, CIN-PIT |
| 39 | David Njoku, CLE vs. CHI |
| 40 | Dissatisfied, SEA @ MIN |
| 41 | Hayden Hearst, ATL-NYG |
| 42 | Mo Ali-Cox, Ind-Ten |