SPORTS
Fantasy Arabic Ranking Week 8: Who's Starting, Fantasy Football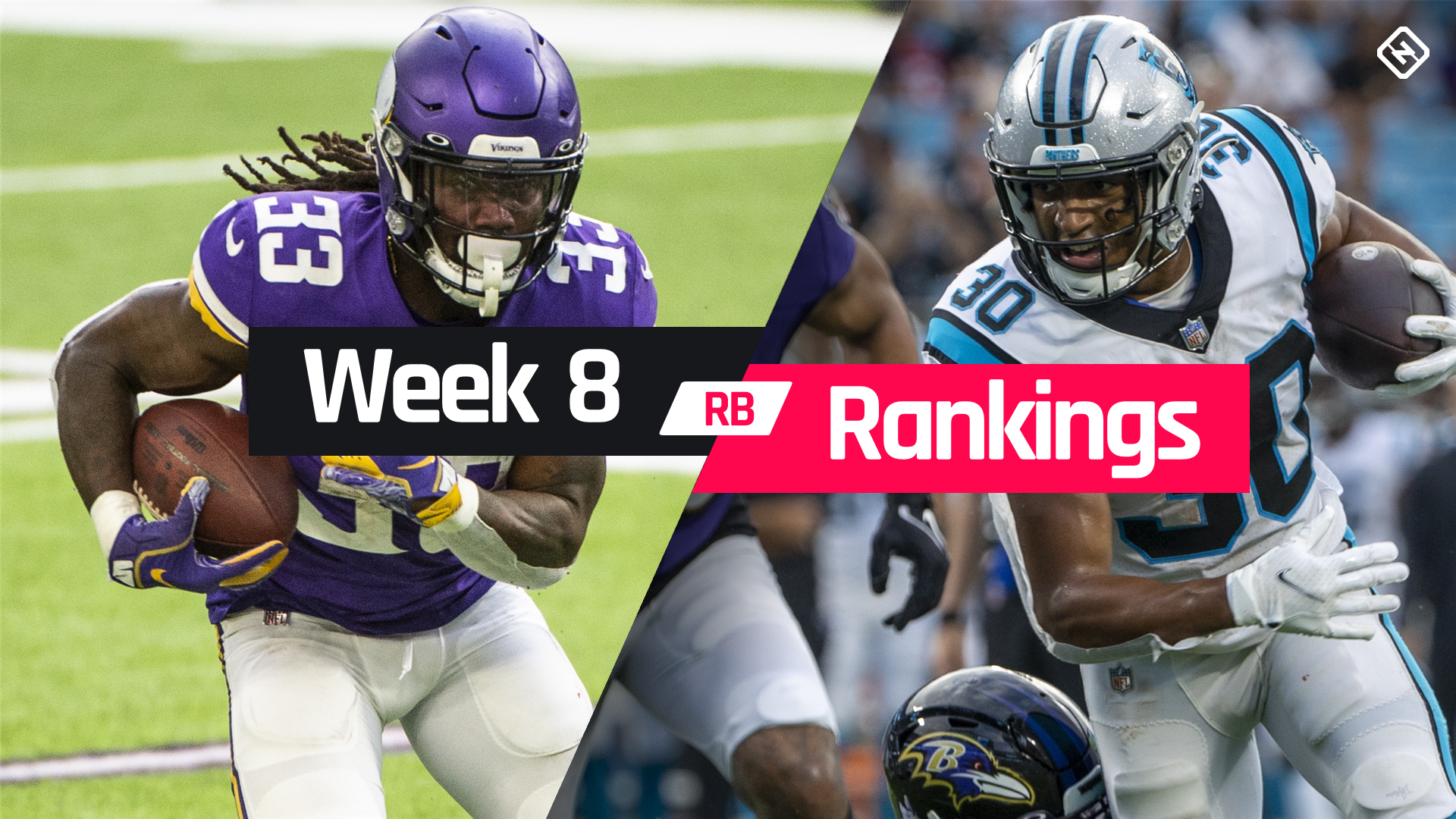 The six-team bipoclip is over, and this week, only two teams (Raiders and Ravens) are off. It's still going to be a tough week for our Week 8 Fantasy RB rankings, as lots of running backs are dealing with injuries and the normal amount of tough matchup and tough committee situations are affecting things.
Saccon Berkeley (ankle), Nick Chubb (calf), and David Montgomery (knee) are all eligible to return this week, but Montgomery is expected to be out. Berkeley (@chiefs) can matchup a cake if he is able to bring it back, while Chubb (vs. Steeler) will be in a tough spot, but obviously fantasy owners want these backs in their lineup regardless. D'Arnest Johnson showed last week that he is capable of handling Carrie's full complement if he is chubbed out, but the matchup against the Steelers will keep him at a low-end RB2 level.
Week 8 Standard Ranking:
Quarterback | Wide receiver Tight end D / ST | Kicker
Damien Harris (@ Chargers), Darrell Williams (vs. Giants), and Kenneth Gainwell (@ Lions), assuming Miles Sanders (ankle) is out, are in good position this week and should make the Borderline RB1-level number. Jack Moss and Devin Singlearty (vs. MIA) both have great matchups, although their timeshare remains disappointing. Moss continues to play more snaps than singles, but the singles closed the gap in their last game and narrowed Moss. Still, Moss's slight advantage in terms of touchdown possibilities gives him an edge in our rankings.
Week 8 PPR Ranking:
Quarterback | Running back | Wide receiver Tight end D / ST | Kicker
Several secondary backs are in good matchup spots this week and may see some extra touch / production. Tony Pollard (@ Vikings) is at the top of our rankings, but JD McKissick (Broncos), Brandon Bolden (@ Chargers), Boston Scott (@ Lions), and Rashad Penny (vs. Jaguars) also have favorable matchups and should all flex Act as. If you are in Bandhan, you can try Perin (@Jets) in the society, because the secondary backs of the Bengalis have been producing well lately.
Week 8 DFS Lineup: FanDuel | Draft Kings | Yahoo!
Khalil Herbert (vs. 49ers), Miles Gaskin (@ Bills), Michael Carter (vs. Bengals), and Mark Ingram (vs. Rams) are notable Borderline starters with tough matchups. Some of these boys get enough volume, but the same can be said for most of the secondary backs listed above who have a much better matchup. The main difference is that bad-matchup players are more likely to carry the goal-line, but they are still more risky than usual in a week where the rankings are relatively deep.
More Week 8 DFS: Best Stack | Best value | Lineup Builder
We have reached a stage in the season where we have a good idea of ​​who will be touched and who has the best potential for production. Some situations are still full guesswork (Dolphins, Broncos, Seahawks) or just worse (Texans, Jets), but there are more like Falcon or Cardinal, where committees usually improve. We know bad games are always possible (as we saw with a gimpy Mike Davis last week), but we also know that some players have established themselves as "mast-start". If you don't have a significantly better or more reliable option, you need to trust some people until they give you a reason not to.
Week 8 Fantasy: Sleeping | Bust | Start them, sit them down
Note: We'll update these RB rankings throughout the week, so check back for analysis and the latest player movements.
Fantasy Arabic Rankings Week 8: K will start running backwards
Based on ranking Standard, non-PPR Scoring
| | |
| --- | --- |
| Rank | Player |
| 1 | Derrick Henry, TEN IND |
| 2 | James Robinson, JAX @ SEA |
| 3 | Dalvin Cook, MIN vs. Pulses |
| 4 | Ezekiel Elliott, DAL @ MIN |
| 5 | Sackon Berkeley, NYG 8 KC |
| 6 | Jonathan Taylor, IND vs. TEN |
| 7 | Joe Mixon, CIN @ NYJ |
| 8 | Damien Harris, NE @ LAC |
| 9 | Alvin Camara, NO vs. TB |
| 10 | Austin Eckler, LAC v. Born |
| 11 | Aaron Jones, GB @ ARI |
| 12 | Darrell Henderson, LAR @ HOU |
| 13 | Andre Swift, DET v. Ph.I. |
| 14 | Nazi Harris, PIT @ CLE |
| 15 | Kenneth Gainwell, PHI @ DET |
| 16 | Darrell Williams, Casey v. NYG |
| 17 | Nick Chubb, CLE vs. PIT |
| 18 | Cordrell Patterson, ATL vs. CAR |
| 19 | Chuba Hubbard, CAR @ ATL |
| 20 | Leonard Fornet, TB: No. |
| 21 | Eliza Mitchell, SF @ CHI |
| 22 | Antonio Gibson, WAS @ DEN |
| 23 | Jack Moss, BUF vs. MIA |
| 24 | Devin Singlearty, BUF vs. MIA |
| 25 | Tony Pollard, Pulses @ MIN |
| 26 | Alex Collins, SEA vs. JAX |
| 27 | Melvin Gordon, DEN vs. WAS |
| 28 | Khalil Herbert, CHI vs. SF |
| 29 | Mike Davis, ATL vs. CAR |
| 30 | Javante Williams, DEN vs. WAS |
| 31 | James Connor, ARI vs. GB |
| 32 | Michael Carter, NYZ vs. CIN |
| 33 | Chase Edmunds, ARI vs. GB |
| 34 | Brandon Bolden, NE @ LAC |
| 35 | JD McKissick, Was @ den |
| 36 | Jamal Williams, DET v. Ph.I. |
| 37 | Miles Gaskin, MIA @ BUF |
| 38 | Boston Scott, PHI @ DET |
| 39 | Mark Ingram, HOU vs. LAR |
| 40 | Damien Williams, CHI vs. SF |
| 41 | Salvan Ahmed, MIA @ BUF |
| 42 | Rashad Penny, SEA Vs. JAX |
| 43 | D'Earnest Johnson, CLE vs. PIT |
| 44 | Samaj Perin, CIN @ NYJ |
| 45 | Ty Johnson, NYZ v. CIN |
| 46 | Alexander Mattison, MIN vs. DAL |
| 47 | AJ Dillon, GB-ARI |
| 48 | Ronald Jones II, TB @ NO |
| 49 | David Johnson, HOU vs. LAR |
| 50 | Nyheim Hines, IND Vs. Ten |
| 51 | Devontae Booker, NYG @ KC |
| 52 | Young Bernard, TB @ NO |
| 53 | JaMycal Hasty, SF @ CHI |
| 54 | Sonny Michelle, LAR @ HOU |
| 55 | Jericho McKinnon, Casey vs. NYG |
| 56 | Demetrik Felton, CLE vs. PIT |
| 57 | Joshua Kelly, LAC vs. NE |
| 58 | Darinton Evans, TEN @ IND |
| 59 | JJ Taylor, NE @ LAC |
| 60 | Carlos Hyde, JAX @ SEA |
| 61 | Philip Lindsay, HOU vs. LAR |
| 62 | Larry Rountry III, LAC vs. NE |