SHARE MARKET
Children under the age of 12 may soon receive the COVID-19 vaccine – 5 Important Questions Parents Should Ask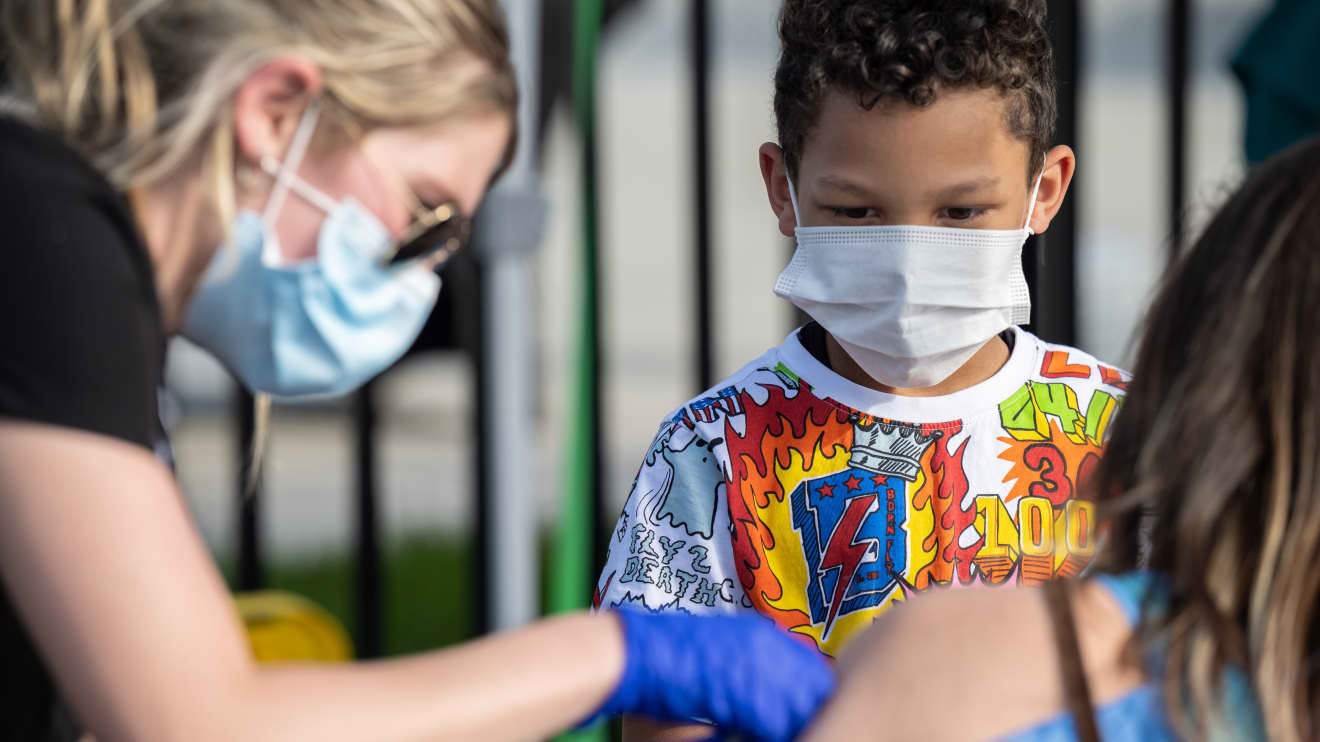 The last line of vaccination for children between the ages of 5 and 11 is probably just a few steps away, following the stamp of approval of Pfizer PFE by the Independent Advisory Committee on Food and Drug Administration.
+ 0.95%
/ Biotech BNTX,
-0.86%
Vaccination on Tuesday.
Although their vote was not mandatory, it could help persuade the US Center for Disease Control and Prevention and the FDA to give them the final green light.
It would pave the way for about 28 million American children to be vaccinated with the consent of their parents.
Dr Nipuni Rajapakse, a pediatric infectious disease specialist at the Mayo Clinic Children's Center, said: "This is a great way to protect your child and family from Covid-19.
In the meantime, you may have some questions about the side effects of the vaccine, what to expect and where you can get it.
Here are some answers to those pressing questions:
1. Where will children between the ages of 5 and 11 be vaccinated?
In most cases, people 12 years of age or older have been vaccinated in the same place as your child. But unlike the initial vaccine rollout, you should have no problem getting an appointment, the White House said before the FDA advisory panel meeting.
For example, National Pharmacy Chain CVS CVS,
+ 0.73%
MarketWatch has confirmed that they will administer the vaccine to children. Walgreens WBA,
-1.85%
It declined to say whether it would vaccinate children and is awaiting "official guidelines as well as a distribution plan for vaccinating children aged 5-11 to COVID-19".
And according to a briefing from the White House, more than 25,000 pediatricians and primary care providers have already signed up to vaccinate children against COVID-19.
In addition, there will be hundreds of school- and community-based clinics, as well as children's hospitals that will administer vaccines.
2. How are COVID-19 vaccines for young children different from those given to people 12 or older?
Children will receive the Pfizer dose, which is one-third of the doses used for adolescents and adults.
However, as with adolescents and adults, they will have to wait three weeks to receive a second dose and an additional two weeks to receive about 91% protection against significant infections, according to more than 2,000 primary-school-age Pfizer studies.
3. What are the common side effects when young children get the COVID-19 vaccine?
According to Pfizer's research, the side effects your child may experience after taking the first dose may include: pain in the arm / arm, fatigue, headache, muscle aches and fever.
"These symptoms are usually short-lived (last 1 to 3 days) and resolve on their own without any long-term effects," Rajapakse told MarketWatch.
"'Most children's symptoms will not be so severe that they will miss school'"

– Dr. Nipuni Rajapakse, Pediatric Infectious Disease Specialist at Mayo Clinic Children's Center

"Side effects usually occur after the second dose of the vaccine due to a strong immune-system response," he added. "If parents are concerned that their child is experiencing any symptoms after being vaccinated, they should consult their primary care provider to find out if this is an expected side effect."
Importantly, "most children's symptoms won't be so severe that they have to miss school," he said. Rajapaksa added that children can take over-the-counter medications such as Tylenol or ibuprofen to treat "annoying" symptoms.
4. Can children take flu shots while or near their COVID-19 vaccine?
Based on "the best data available at the moment", there is no problem in taking a child's flu shot and a COVID-19 shot during the same trip to the doctor's office, says Dr. Adam Ratner, Head of the Department of Pediatric Infectious Diseases at New York Hassanfeld Children's Hospital of Medicine, told MarketWatch.
In fact, "you can get them at the same time," Ratner said. "There is no reason to think there will be interference between the two of them," he added.
5. Do children have to wear masks at school even after being fully vaccinated?
"Children should continue to wear masks after being fully vaccinated until we see that the level of virus transmission within the community is significantly declining," Rajapaksa told MarketWatch.
"Parents must follow the guidelines of the CDC and their local public health unit because masking recommendations for vaccinated individuals may change if the level of virus transmission is significantly reduced."